HIDA NETSUKE Wood carving by SUKENAGA and other Hida Masters
sold out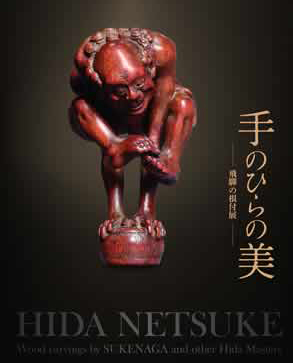 HIDA NETSUKE Wood carving by SUKENAGA and other Hida Masters (2014)
Price:100US$ SOLD OUT
Catalogue issued by the City of Takayama at the occasion of a special exhibition of Netsuke and works by Sukenaga and other Hida carvers . 120 pages with color pictures of 147 items and of a selection of Netsuke from H.I.H. Princess Takamado's collection.
All signatures are also illustrated. Limited edition ( 500 copies ).
Price 100 US$ overseas postage included.
All catalogues and books can be paid by Paypal
Categories
根付 Netsuke
提物 Sagemono