Access
Gallery Hours:
We are open from Wednesday to Saturday (except National Holidays) between 1:30 PM and 6:00PM. Also by appointment.
*Please do not hesitate to make a prior appointment so we are certainly open for your visit.
How to Find Us Easily:
Our building (Palais Eternel) is located on SHINJUKU DORI street, a 5-6 min walk from "SHINJUKU-GYOENMAE"(M10) or "YOTSUYA-SANCHOME" (M11), both on Tokyo Metro MARUNOUCHI Line. EXIT #2 of both stations. PLEASE SCROLL DOWN FOR MAPS & MORE DETAILS: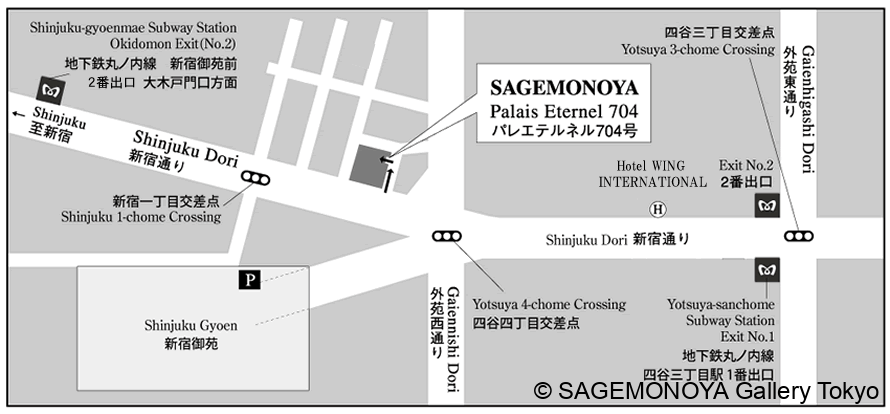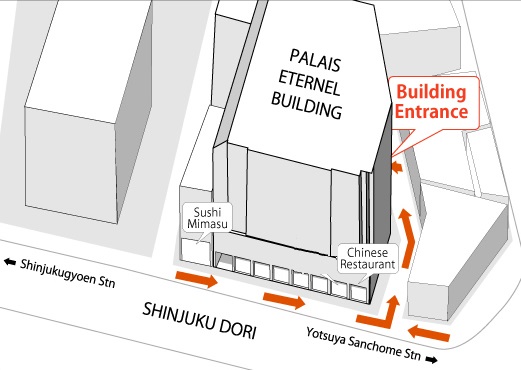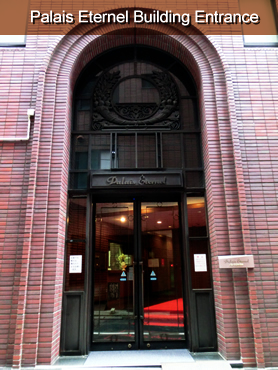 The entrance is on the narrow street to the right side of the building, NOT on SHINJUKU DORI street. Please refer to the map above.
Once entered, you will see an Interphone on the left wall. Please press 704 followed by YOBIDASHI 呼出 button located below the numbers.
When answered, the door will open and you will find the elevator to the 7th floor. To start again, please press the 消 button.
Address:
Palais Eternel Bldg. Suite 704, Yotsuya 4-28-20, Shinjuku-ku, Tokyo 160-0004 JAPAN
Tel: +81-(0)3-3352-6286  Fax: +81-(0)3-3356-6581
Public Transportation:
Exit #2 of Shinjuku-Gyoen station (M10) Tokyo Metro Marunouchi Line
Exit #2 of Yotsuya-Sanchome station (M11) Tokyo Metro Marunouchi Line
*Approx. 5-6 min walk from both stations